How many things can you buy for $10? Luckily a badass Sumac show. 
It is ridiculous to think that this show was $10 dollars. How many things can you buy with this amount of money? A pair of socks from Ross? A plain hoodie at Fallas Paredes? A 12 pack of PBR?…oh and a Sumac show at a tiny venue. Suck it. I was skeptical at first when I saw the opening bands for this show. A comedy duo? Some kind of sad rock/folk? Ummm. Once again I'm happy to say that this line up ruled and gave the necessary variety and flow that usually some metal shows don't have. Well done.
Sad Vicious was a total surprise and super entertaining. Not only they did laugh at themselves, the music scene and LA, but also were actually really funny. Their conviction when delivered classics like "Sexual Beast" or an totally 2 second cover of Metallica's "Enter Sandman" is unmatched. Sweat, broken bottles, hypnotism and weed bongs were some of the best moment of their little but refreshing set.
Jaye Jayle was also another huge surprise. I listened to their album a little bit before the show and I wasn't impressed…how wrong. The band kicks big butts live. The style is some kind of drony Nick Cave/Mark Lanegan voice with echoes of Appalachian rock similar to 16 Horsepower. They sang a couple of vocal harmonies that were stunning. I enjoyed their whole set massively. The real deal.
https://jayejayle.bandcamp.com/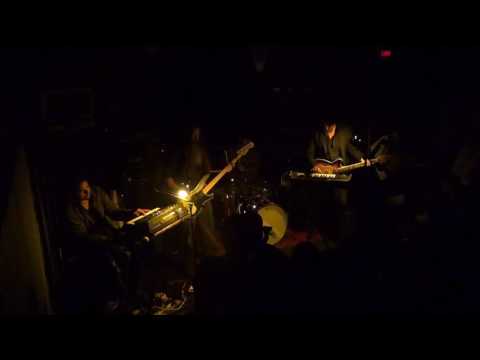 Certainly, it is a task to impress a metal crowd. Nowadays only a few bands can transcend the auditory realm just to penetrate directly into your body. I'm just thinking about how Watain's shows become rituals, how it is more than listening to the music, how you feel more than you hear. I can say that Sumac transcended the music real on Sunday night. The trio formed by Brian Cook (Russian Circles), Nick Yacyshyn (Baptists) and Aaron Turner (Isis, Old Man Gloom, Mamiffer) delivered a set that only matched the intensity that I saw Mastodon delivering during their 'Remission' tour in 2003. This is one of the few so-called supergroups that deserves praise. They are all absolutely stellar at playing their instruments, at communicating with each other and at creating something unique but while still keeping their identity as musicians. I was blown away. It kind of sucks that I had in mind to film their set because I wasn't able to really see and enjoy as a member of the audience, but they still made my hair rise like morning glory.
Below you can watch a video collage I created with their whole set. Came out pretty cool. I recommend you to listen to Mamiffer's new album 'The World Unseen', in my opinion, the best they have released so far.
Setlist: 
Thorn in the Lion's Paw
Rigid Man
Clutch of Oblivion
The Deal
ORDER SUMAC'S ALBUMS FROM SIGE:
https://sigerecords.merchtable.com/
BUY SUMAC'S NEW ALBUM FROM THRILL JOCKEY:
http://www.thrilljockey.com/products/what-one-becomes
Get in touch with us if you want to be featured in some way or another on this site, if have an album that you think is the shit but that only your mum knows about or even if you want to tell your story as a metal head living in Nebraska…that would be awesome:
jaimeviejomusic(at)gmail(dot)com
https://www.facebook.com/evilwarnings
https://twitter.com/evilwarnings
Youtube channel: https://www.youtube.com/channel/UCKPN4KU-EgTM-IK2V0A9dWA